One Tree Hill - Lucas/Peyton - Pounding Through My Veins [EP]
« previous entry | next entry »
Jul. 18th, 2008 | 01:53 pm
Cotching in...: Home
Feelings: accomplished
Tunes: Time To Dance - Panic At The Disco

Medium: Television


Fandom: One Tree Hill

Subject: Lucas/Peyton

Title: Pounding Through My Veins

Warnings: One Mp4 and warnings for the first season of One Tree Hill only.

Notes: This EP is for their first season relationship, I am going to make one for each season because I love them so much it hurts.. Attempted explanations are in brackets, feel free to ignore them.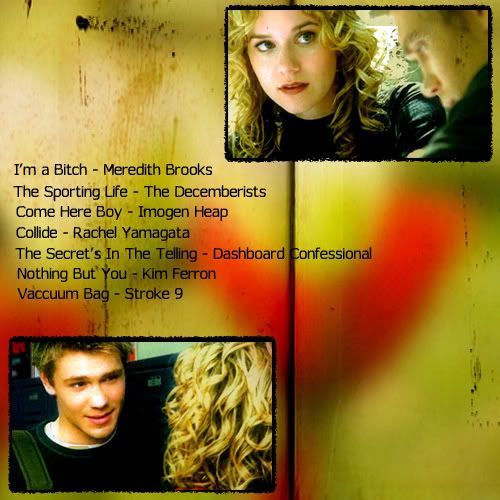 I'm a Bitch - Meredith Brooks [Peyton]
I'm a bitch, I'm a lover, I'm a child, I'm a mother
I'm a sinner, I'm a saint, I do not feel ashamed
I'm your hell, I'm your dream, I'm nothin' in between
You know you wouldn't want it any other way

So take me as I am, this may mean
You'll have to be a stronger man
Rest assure that when I start to make you nervous
and I'm goin' to extremes, tomorrow I will change
And today won't mean a thing
The Sporting Life - The Decemberists [Lucas]
So far I had known no humiliation
In front of my friends and close relations

There's my father looking on
And there's my girlfriend arm in arm
With the captain of the other team
Come Here Boy - Imogen Heap ["I've wanted this for so long"]
I know that my face
Is only too familiar to your sleep
I can see it in you eyes
And I can tell by your body
Why are you taking so long
Do you need me to come and find you, honey?
To set your mind at rest
And let your dreams run free

Collide - Rachel Yamagata [Too scared to fall in love and the Brooke situation]
I'll fascinate you for awhile
My hands in wait to please, so well
When I wake to realize, all I'd done
I'll be breaking strings
And all you're gonna feel
Is undone
I will not stay if you ask me to stay
Do not ask me to stay because I will not stay
Why do we always collide
Stuck onto different sides
The Secret's in the Telling - Dashboard Confessional [The forbidden kisses]
Your name is pounding through my veins, can't you hear how it is sung
And I can taste you in my mouth, while the words escape my lungs
And I'll whisper only once
There is a secret that we keep
I wont sleep if you wont sleep
Because tonight may be the last chance we'll be given
We are compelled to do
What we must do
Nothing But You - Kim Ferron [Peyton tries to get over Lucas after the Nikki incident]
I think I'll go for a walk,
Maybe out in the rain
Maybe let the tears roll down my face and not feel the pain
Maybe think about something,
maybe think about you
---
And I got plenty of time
Time to figure it out
Time to think about You and me,
Whatever that was all about.
I've got nothing to prove,
I've got nothing to say,
No, I guess I never thought you were good for me anyway
I've got nothing to lose
Nothing but you.
Vacuum Bag - Stroke 9 [Lucas knows he has screwed up and has thus left]
Don't hate me, don't regret me, don't ever forget me
Wherever you go, whatever you do, don't say I never loved you
---
I was just living in the moment
And the moment was all about you
Zip here
Comments are love, it makes me think maybe someone out there besides me like this. And it means I'll post the next one sooner!
The pictures in the cover art credited to
minacullen
Comments {34}