Let's conspire to ignite - Arthur/Eames - Fanmix
« previous entry | next entry »
Jul. 21st, 2010 | 12:58 pm
Cotching in...: UK
Feelings: pleased
Tunes: Starlight(Live at Abbey Road) - Muse

Medium:
Film
Fandom:
Inception
Subject:
Eames/Arthur
Title:
Let's Conspire To Ignite
Warnings:
Not exactly spoiler-y, but you might as well have seen the film?
Notes:
Saw the film two nights ago, and it was amaaazing. Joseph Gordon-Levitt may be my new favourite person? Anyhow. Eames and Arthur's interactions were some of my favourite parts of the film. I mean, they bicker like an old married couple, Eames calls him pet names and they have serious chemistry. It does help that they seem to fulfill my normal slashy ships (cocky-self-assured-arsehole/quieter-res
trained-prettyboy, anyone?). So here is a mix I forged for them. It's not quite what I'd like it to be, but oh well. :-)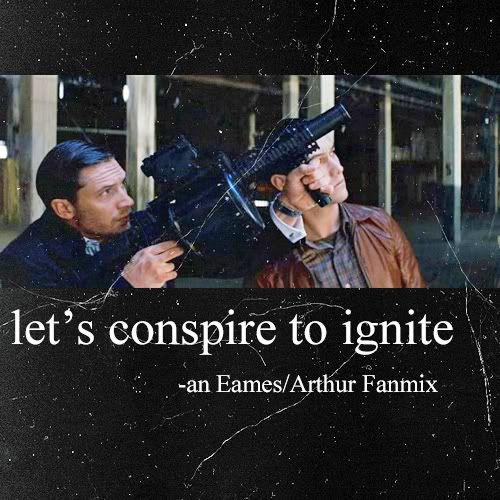 With Aplomb – Biffy Clyro [Arthur-->Eames]
Fix my new memory with a cold naked stare/Chew up the words but with floods beware/Fondness can escalate beyond my repair/Chance is the fiction to orchestrate despair
Epiphany – Staind [Eames-->Arthur]
So I speak to you in riddles /'Cause my words get in my way.
***
I am nothing more than/A little boy inside/That cries out for attention/yet I always try to hide/'Cause I'll talk to you like children
Sore Throat – The Maccabees [Arthur/Eames]
Fat lip in the morning/Fat lip at night/I've still got a fat lip from that punch in our last fight
***
Scratched up in the morning/Scratched up at night/I've still got scars from the scratches you gave to me
And Darling – Tegan & Sara [Arthur-->Eames]
When you creep up and tell me/Darling/It breaks my heart each time you/Darling/You break my heart each time you/You slip your hands inside my pockets/Tell me nothing else would do/Without me, you can't live and/You slip your heart into my chest
I Love You – Dandy Warhols [Eames-->Arthur]
You make me feel really unsure/But that should just make you feel secure/Although we've only known each other a bit/Already I can't sleep at night and I feel like shit.
Starlight – Muse [Arthur-->Eames]
My life/You electrify my life/Let's conspire to ignite
A Glow – Okkervil River [ Eames-->Arthur]
Come into the den, come into the den/You've got a glow/Climb into my arms with blood on your clothes/You've got a glow/And you're no one's but mine/And nobody knows
Download
here
.
Comments {24}